2436 W Eastwood Ave, Chicago, IL 60625
This property was purchased by an investor/builder in August 2011 and resold in August 2012. The property had fallen into disrepair and the previous owner sold at or near recent lows in the market.
The Lincoln Square neighborhood is perfect for this higher end product. Assuming total development costs for the project were $650K-700K, this would have provided a return in the range of 15-24%. I'm guessing the total development costs were on the higher end of the range due to the initial list price of $929,000. In either case, it's a great looking home now.
Purchased for $175,000 in August 2011 (3 beds / 2 baths)
Resold for $875,000 in August 2012 (5 beds / 4.1 baths)
Listing broker's notes for resale:
New renovation/ addition from award winning builder Longford Design + Construction who created a beautiful 4000 sqf home on 4 levels on an oversized lot in lincoln square/waters school.Premium Cement board + stone exterior w foam insulation. Featuring all new walnut stained oak floors,handcrafted stairs,Ultra-lux trim package,Spa caliber baths w modern /classic finishes. Gourmet kitchn,mud room.
Before picture: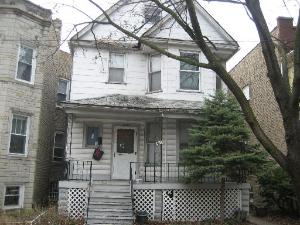 Post rehab pictures (VHT):